Stuck in the middle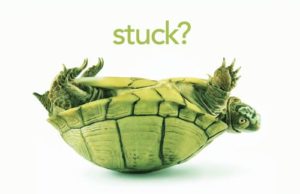 Are you mobile, rooted or simply STUCK?
Are you stuck in a job, in a career, in a community? Mobility for Americans in the last two centuries have allowed for individual success and greater financial freedom for their families. According to National Association of Realtors, more Americans are staying put for longer periods of time. Up from an average of 7 years in 1990's, Americans are living in their homes an average of 10 years. That longevity is due to many factors influencing the decisions.
According to CityLab our ability to move has divided Americans into 3 classes.  The MOBILE, who derive the benefits from economic dynamism; the STUCK, trapped in place from salary, tenure or debt, and the ROOTED, those committed to their community and choose to stay.
Restrictions caused by government regulations of zoning laws, construction caps, and subdivision regulations has limited the supply of housing, driving up prices and limiting supply. Montana's own legislative body pass more and more laws restricting and limiting housing.  The City and County's  desire for smart growth and limiting urban sprawl by updating subdivision regulation.
Airlines find it easier to move us prior to boarding.   Once we are seated it is more difficult to move us from our seats. If you are 50+, it may be time for you to move to a smaller, cheaper or different housing to save money.  Rightsizing to a different home benefits most seniors.  Many older Americans stay in the family home because it is comfortable.  The family home usually is bigger, has stairs and is older.  By rightsizing, seniors can purchase newer, smaller homes.  This saves them money in repairs, utilities, and taxes.  If you have thought about all your stuff, wondered if you should downsize, consulting a Senior Real Estate Specialist can be of assitance.  By asking you the right questions, they can help you in figuring out your next step.
Trina is a Seniors Real Estate Specialist and can offer tips and techniques in making this big decision.   Contact Trina White at 406-698-8899 for a in home consultation.
#downsizing #rightsizing #YouAreNotaTree #seniors #onelevel